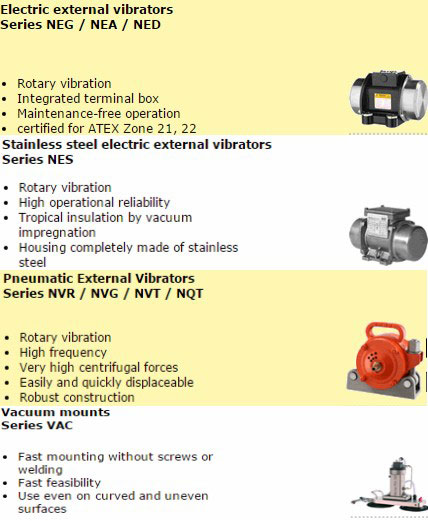 Netter Vibration is an international leader in vibration technology.
Since 1953 we have been supplying vibrators to the construction industry, such as chemicals, machinery, food industry or construction industry.
Also complete vibration test equipment, such as vibrating tables are part of our range of services. In close cooperation with our customers, we find solutions for all specific applications.
Experienced sales representatives and application engineers can advise you on the spot. Upon request we provide you with test devices available.
Products
Netter vibrators find their applications in almost all sectors of the industry .
Besides the classical applications in bulk solids were over time, together with the customer, always conceived solutions to improve production processes or implement new developments. Each vibrator type of our product range has typical characteristics and often it is these characteristics that make a solution possible at all. In some types, for example, the frequency and the amplitude can be set seperately from each other, other devices have a special vibration characteristic.
We offer vibrators with pneumatic, electric and hydraulic drive and have so for every type of energy and every conceivable task the solution.